Looking for a destination you can visit all year round? Are you a nature lover? Consider the Galapagos!
Contact your travel advisor to start planning
For nature lovers, Ecuador and the Galápagos Islands are a must-visit destination. But there's plenty to love about this South American gem of a country beyond the boobie birds and iguanas. This fun-filled adventure combines the wildlife of the world's most fascinating archipelago with historic and gastronomic experiences in Ecuador's colonial urban centers.
It starts in Guayaquil, Ecuador's biggest and busiest city. Often overlooked as little more than a gateway to the Galápagos Islands, the city's treasures delight those who pause long enough to appreciate them. You'll do just that on a privately guided tour on which you'll discover must-see sights like Parque Seminario, Palacio de Cristal, and the Malecón 2000 riverfront boardwalk.
From Guayaquil, the trip moves some 700 miles (approximately 1,200 kilometers) to the west into the Pacific Ocean to the Galápagos archipelago. Made famous by naturalist Charles Darwin in 1835, this string of volcanic islands is home to some of the world's most unusual plants and animals, not to mention some incredible experiences. On Isla Santa Cruz, you'll get to go kayaking, snorkeling, or stand-up paddleboarding in search of boobies, sea lions, and white-tipped reef sharks; go hiking around Cerro Mesa, and take a private tour of the rock formations of Las Grietas and explore secluded Tortuga Bay. Later, take to the surf itself on a four-night cruise that visits must-see spots like Puerto Egas, Isla Rábida (a sea lion haven), Tagus Cove, and the Santa Cruz highlands before heading back to the mainland. ... Show More »
Wrap things up back on dry land in Quito, Ecuador's political and cultural capital. First, experience the fascinating intersection of cultures that define Quito on a private tour that introduces you to its UNESCO-protected colonial architecture, followed by a tasting of the world's finest cocoa before sitting down to cocktails and a delicious 12-course tasting menu at URKO Cocina Local. Finally, you'll head deep into the Bellavista Cloud Forest Reserve on a privately guided birding expedition for the chance to spot hummingbirds, tanagers, plate-billed mountain-toucans, and dozens of other birds.
This tour is offered by Kensington Tours
Itinerary
Day 1: Your day by day itinerary
Day 1: Guayaquil
Upon arrival, an English-speaking guide will greet you outside of Customs holding a sign with your name on it. This representative will direct you to your awaiting private driver and vehicle, and will also accompany you to your accommodation to assist with check-in.
Accommodation: Wyndham Hotel
Just steps from historic Santa Ana Hill and its famous lighthouse, and minutes from the impressive Malecon 2000, the Wyndham Guayaquil Hotel offers guests modern accommodations in a comfortable, purpose-built property. Each of the spacious guestrooms include thoughtful amenities including plush pillow top bedding, floor-to-ceiling windows, bathrobes, a 43-inch flat screen satellite television, and Junior Suites also feature an in-room hot tub. Guests at this non-smoking hotel also enjoy easy access to the Las Peñas barrio, a centuries-old neighborhood that is host to many of the city's premier water-front restaurant
Wyndham Hotel
Day 2: Guayaquil
Quito is Ecuador's colonial and political capital but Guayaquil is the country's largest city and busiest port. Situated on the impressive, slow moving, River Guayas, this bustling city has an endearing, tropical atmosphere. On this day tour, visit several of the city's highlights, such as the Malecon 2000 Boardwalk, Seminario Park, and a park that features exhibits related to 19th Century life in Guayaquil in the company of a private guide. You will also visit an animal rescue center that protects wildlife from the threatened dry forest habitats found in areas around the city. After watching boats slowly passing by on the river, walk and learn about some of Guayaquil's most important and impressive structures such as the Crystal Palace, the Moorish Tower, and the Governor's Office Building. You will also pay a visit to Santa Ana Hill, the picturesque neighborhood where the city began to get a glimpse of what life was like in Guayaquil a century ago, all while enjoying the comical antics of the dozens of tame, slow moving iguanas that live in Seminario Park.
Accommodation: Wyndham Hotel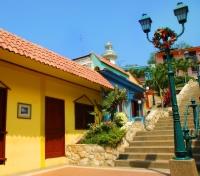 Historic Santa Ana
Day 3: Guayaquil - Galapagos - Baltra Island - Santa Cruz Island
You will be privately transferred between Guayaquil Airport and your hotel by a professional driver and English speaking guide.
Board a flight in Guayaquil with direct service to the Galapagos. Approximate flight duration is two hours
All guests visiting the Galapagos Islands are required to have medical travel insurance. Proof of insurance is required upon entry to the Galapagos Islands, and your insurance policy must be valid for the duration of your stay. Medical Travel Insurance can be purchased through Kensington Tours or independently. Please speak to your Destination Expert for more informatio
The mandatory Galapagos tourist transit card is included in your itinerary.
The mandatory Galapagos National Park entrance fee is included in your itinerary.
Please Note: All Galapagos excursions are to be referenced as a guideline only - the route and program are subject to change according to National Park policies and regulations, weather conditions, seasonal changes, safety precautions and estimated wildlife encounters, etc. A fuel surcharge is applicable to all vessels cruising in the Galapagos and all flights to and from the Galapagos. These surcharges have been included in your trip price. Fuel Surcharges are subject to change without notice and additional fees may be applicable at time of travel.
Upon arrival to Baltra Airport – gateway to the Galapagos – you will be greeted by a local representative who will whisk you away to a special VIP lounge where you will have the opportunity to change into swimwear and to put on some sunscreen before transferring to the Itabaca Channel. At Itabaca, explore the beautiful turquoise waters with your private guide while kayaking, snorkeling or using a stand up paddleboard (SUP). Throughout the water activities you will spot famous Galapagos wildlife such as blue-footed boobies, sea lions, brown pelicans, a variety of herons and white-tipped reef sharks, gliding past beautiful red mangrove forests and lava rock cliffs on water so clear you can see the marine life in the shallows. Your ocean (sit on top) kayaks come in doubles or singles, and life jackets are provided. A support boat will also escort you throughout the water activities to ensure safety and to provide water, snacks and towels between activities. After an hour or two on the water, you will be transferred to your accommodations on Santa Cruz Island.
Accommodation: Galapagos Habitat Hotel
Situated on the oceanfront in Puerto Ayora, Galapagos Habitat Hotel by Eco Luxury Group (formerly the Red Mangrove Lodge) blends in naturally with the surrounding mangrove forest while offering outstanding views of Academy Bay. The hotel's private deck and restaurant area afford panoramic scenes of the Galapagos Islands, and many of the islands charismatic creatures are often found wandering lodge grounds. Guest rooms at Galapagos Habitat Hotel by Eco Luxury Group are divided in two areas, seaside or mangrove, and all rooms are equipped with air conditioning, cable television, a private bathroom and hot water. Join a cast of sea lions, marine iguanas, frigatebirds, and many other animals for a relaxing and enjoyable stay at Galapagos Habitat Hotel by Eco Luxury Group.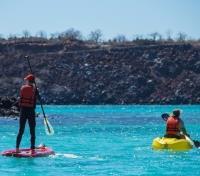 Water Sports on the Itabaca Channel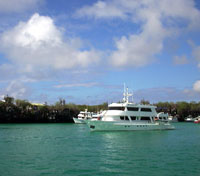 Santa Cruz Island
Day 4: Santa Cruz Island
Begin the day with a visit to the Cerro Mesa viewpoint from which you can admire the whole southern shore of Santa Cruz. Afterward, continue on towards one of the iconic formations in Cerro Mesa – its collapsed crater – by hiking downhill for about 30 minutes. Explore the fascinating crater floor and relax for a while before starting the hike back (which takes between 45 minutes to an hour). During the hike, you will have excellent opportunities to see endemic bird species such as the woodpecker finch, or if you are lucky, iconic wildlife including giant tortoises. After a break for lunch, you'll then set out on a short walk on flat and easy terrain through a deciduous forest until reaching El Garrapatero beach. Here you can head out on the water on top of a sea kayak (or snorkel) before another short walk to a brackish lagoon where you are likely to find pink flamingos. After a day of hiking, kayaking and wildlife viewing, you will be returned to your accommodations.
Accommodation: Galapagos Habitat Hotel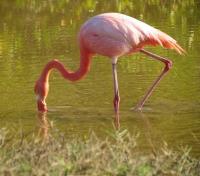 Pink Flamingo
Day 5: Santa Cruz Island
From Puerto Ayora's main pier, take a water taxi to the "Other Side Pier." From here, you and your private guide will start an easy walk just over half a mile in length (approximately one kilometer) to reach Las Grietas. An impressive geological formation where you will come across two massive rock walls with an elongated, crystal clear water pond within, it is an ideal spot for snorkeling. Take a dip, relax on the rocks, enjoy a box lunch and, afterwards, set out on a walk through a deciduous forest for one and a half miles (roughly three kilometers) to reach one of the most beautiful beaches in the archipelago. Continuing the walk along the white sand beach for another half mile until reaching Playa Mansa where you will set out on a special kayaking experience around Tortuga Bay. Shortly after your kayaking experience, you will be returned to your hotel.
Accommodation: Galapagos Habitat Hotel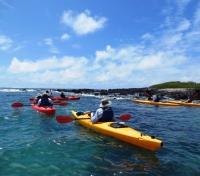 Kayaking in Tortuga Bay
Day 6: Santa Cruz Island - Baltra Island - Seymour Islands - Galapagos Cruise
You will be transferred between your accommodation on Santa Cruz Island and the cruise terminal. Approximate travel time varies based on the location of your lodge, on average lasting 10 to 15 minutes
After boarding the vessel, take some time to get settled in to your stateroom and to explore the ship. Soon, the M/V Legend will depart.
Following a wet landing, explore this tiny, low lying islet that is covered in coral sands and set between North and South Seymour Islands. Home to a group of playful sea lions that come to laze on the soft white sand, it is also a good spot to observe shorebirds as well as herons, lava gulls and boobies. Snorkeling or diving here often reveals see sharks, rays and barracudas.
Accommodation: M/V Galapagos Legend (4N)
This magnificent vessel, with a capacity for 100 guests, has the charm of The Enchanted Islands; small enough for an intimate experience with friends and family and large enough to give a sense of spaciousness. With her three different decks, the Galapagos Legend offers a variety of comfortable social areas without losing its sense of intimacy. Its fantastic open decks allow you to admire the islands' flora and fauna, enjoy a BBQ at night, or take in some sun at the pool and bar areas. Renovated in 2017, the cabins of the M/V Galapagos Legend are modern, bright and configured to allow guests to travel together in comfort.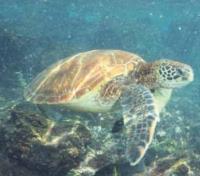 Sea Turtles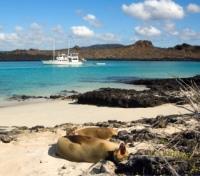 Galapagos Cruise
Day 7: Santiago Island - Rabida Island - Galapagos Cruise
In the morning you'll make a wet landing at Egas Port and then take part in a moderately challenging hike through a tuff cone of volcanic ash which soon gives way to uneven volcanic basaltic rock. A top sight for spotting great blue herons, yellow-crowned night herons, lava herons and oystercatchers, Egas is a wonderland for birders. Returning to the beach, you have the option to simply relax and take in the views or to visit the salt mines trail that was once tracked by Charles Darwin during is expedition in 1835.
In the afternoon, it's time to explore the red island, Rabida. Featuring red sand beaches rich in iron oxide and magnesium, rare endemic catci and all nine species of Darwin's finches, you'll make a wet landing and then participate in a range of activities including hiking, snorkeling and a dinghy ride.
Accommodation: M/V Galapagos Legend (4N)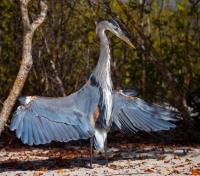 Great Blue Heron
Day 8: Isabela Island - Galapagos Cruise
At Urbina Bay, found on the western shores of central Isabela Island, make a wet landing on the beach alongside the largest marine iguanas of the archipelago, then set out on a hike through the relatively flat, rocky terrain to reach the feeding grounds for giant tortoises. Here, fortunate guests will see these gentle giants in their natural habitat, while spotting flycatchers, Darwin's finches, mockingbirds and a number of land iguanas along the way. Upon return to the beach, take some time to snorkel or swim, perhaps with an aim to get up close with flightless cormorants and sea turtles
Later in the day, make a dry landing at Tagus Cove, a site visited by Charles Darwin in 1835. Follow in his footsteps as you hike along the steep inland trails in search of Galapagos penguins, brown noddy's and terns, among many other species. Following the trek, set out on a dinghy ride tin search of rats, sea lions, and – with luck – charismatic dolphins.
Accommodation: M/V Galapagos Legend (4N)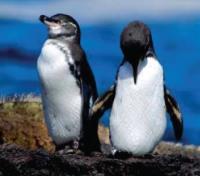 Galapagos Penguins
Day 9: Fernandina Island - Isabela Island - Galapagos Cruise
The most pristine island of the archipelago, Fernandina is a treasure to discover. Free of invasive species and host to an active volcano that features an impressive caldera and unique lava formations, there is much to see and do after making a dry landing. At Espinosa Point, the largest colony of marine iguanas in the Galapagos can be found, and seasonally – typically from June to September – humpback whales feed off the shoreline while year-round flightless cormorants, Galapagos hawks, sea lions and Sally Lightfoot crabs are frequently seen.
Later in the day, visit the northern coast of Isabela Island to discover Vincente Roca Point, a rugged land that is home to a dizzying range of animal life including Nazca and blue-footed boobies. A popular site for snorkeling, frogfishes, barracuda, Pacific seahorses and the incredibly unique red-lipped batfish can all be found under the waves. Here you will set out on a dinghy ride in search of these incredible animals, as well as nesting sea turtles, rays, noddies and brown pelicans.
Accommodation: M/V Galapagos Legend (4N)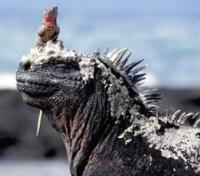 Marine Iguana
Day 10: Santa Cruz Island - Baltra Island - Galapagos - Quito
After a dry landing, board a bus in Puerto Ayora that will whisk you to the Santa Cruz Highlands. Here, amid the endemic Scalesia forest, visit a natural reserve for giant land tortoises, incredible creatures that can live for up to 200 years. You will also tour through lava tunnels, the by-product of the many volcanic eruptions that formed the island over the course of many millennia. An incredible experience few will have the chance to enjoy, it's an excellent way to round out the expedition.
This morning you'll disembark from the ship and bid a fond farewell to the crew
A shared coach will transfer you to the airport ahead of your outbound flight
Board a flight in the Galapagos with service to Quito, connecting via Guayaquil. Approximate flight duration is four hours.
You will be privately transferred to Quito Airport alongside a professional driver and an English-speaking guide.
This evening, enjoy time at leisure to explore at your own pace, or relax at your hotel.
Accommodation: Hotel Mama Cuchara
Following a meticulous renovation, this antique Spanish-colonial house was resurrected and modernized into what is now Hotel Mama Cuchara. The property offers guests all the charisma of a historic hotel, the deeply individual charm of a boutique guesthouse and the effortless comforts, services and contemporary elegance of five star accommodations. Faithful to the Art Hotels brand concept, Hotel Mama Cuchara indulges the keen traveler with a private collection of art complemented by rotating exhibits of various Ecuadorian artists. For an artistic, creative approach to luxury hospitality in the impressive historic center of Quito – a UNESCO World Heritage Site – look no further than Hotel Mama Cuchara.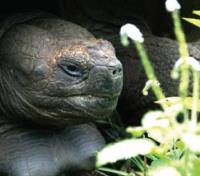 Giant Tortoise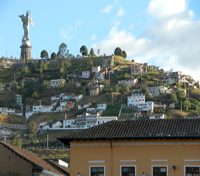 Quito
Day 11: Quito
A city of narrow cobblestone streets lined with whitewashed walls and, rising above, the steeples and cupolas of the city's many spectacular historic churches, Quito has one of the best-preserved colonial centers in all of South America, and its integrity was assured in 1978 when the United Nations declared it a World Cultural Heritage Site. In the morning, join your private guide and walk through the city's Main Plaza where you will see the Government Palace, the spectacular gilded church of La Compañía, and some of the most important churches built through the 16th and 17th centuries, including the San Francisco Monastery. You'll then visit La Ronda, the city's famous colonial street to learn about traditional jobs in colonial Quito. The final stop on your tour through the historic core will be Panecillo, a hill that divides Quito between north and south. Here you will be able to admire the famous statue Our Lady of the Panecillo, built by Bernardo de Legarda, while taking in spectacular views of the city. After a break for lunch at Tianguez (included), found near Plaza San Francisco, enjoy a chocolate sampling experience, starting with a guided tour that explains the history of cocoa in Ecuador, followed by a tasting. Ecuador's unique equatorial climate provides the perfect environment for growing the world's finest cocoa - Cacao Arriba. Cocoa has been revered in Latin America for over 5,000 years, and Spanish explorers treasured it so much they dubbed it the 'Food of the Gods' which you'll learn about at Republica del Cacao, an ambitious company that aims to produce the most authentic chocolate while developing sustainable fine cocoa production practices. After a day of discovery, you will be returned to your hotel.
Tonight, dine at Urko Cocina Local, a casual and ambient gastro-house that is widely regarded as one of Quito's top restaurants. Utilizing ingredients from the many unique regions of Ecuador, Urko Cocina Local invites guests to discover a slice of the country's history and culinary heritage while enjoying a range of masterfully prepared dishes. Reservations will be made in advance, and round-trip transportation in a private vehicle will also be provided. Please note: Your meal is not included and must be paid for on location. Reservations are confirmed at the time of booking and are subject to availability.
Accommodation: Hotel Mama Cuchara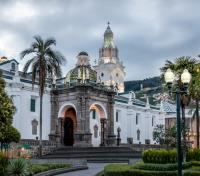 Independence Square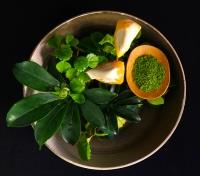 Urko Cocina Local
Day 12: Quito
After an early breakfast at your hotel, depart with your private guide for the Pululahua Volcano for a peek into the crater with its patchwork fields far below on the crater rim. Your next stop is the Bellavista Cloud Forest Reserve, where a climb to the top of the mountain is rewarded with fabulous views and a flurry of hummingbirds, or, alternatively, you can take a hike into the forest on the reserve's variety of trails. An incredible 170 species of birds have been recorded at Bellavista, and the list continues to grow: tanagers, finches, Giant Antpittas, Swallow-tailed Nightjars, Plush-capped Finches, Beautiful Jays, and the White-face Nunbird are recorded within the reserve's limits. You're likely to spot several brightly colored Tanagers and the Platebilled Mountain-Toucan so make sure to bring your binoculars for the cloud forest spectacle that awaits. After lunch, take another hike into the forest and during the expedition, your guide will acquaint you with the cloud forest's exuberant vegetation, its bird life, and the fascinating adaptations to life in this special environment. After a day of discovery in Bellavista, you will be returned to your hotel. Please note: Guests who are interested in a very early start to the day are rewarded with greater opportunities to spot rare species. Speak to your Destination Expert to arrange an early start to the day, boxed breakfast included, or to have a specialty guide with advanced knowledge in birding lead the excursion.
Accommodation: Hotel Mama Cuchara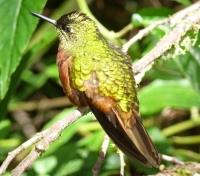 Hummingbird in Bellavista Cloud Forest Reserve
Day 13: Quito
You will be privately transferred to Quito Airport alongside a professional driver and an English-speaking guide.
Accommodation: Depart (Int`l Airport) ( )
Depart from the International Airport. End of itinerary.